Hi everyone! I apologize that I have not written any blog posts for a month. Actually, that is the purpose of this post. I would like to discuss some of the things that are going on in my life and how they are going to affect this blog.
Don't worry, I am not going anywhere. However, I might be a little slower with my blog posts than I have been for the past year. I am extremely proud of myself that I was able to write a blog post once a week almost every week for so long. The thing is, I wasn't working full time over the past year, so I had more time to focus on personal writing and on anime.
I was only working part time because my last full time job nearly killed me. I took some time off to focus on school and to get my life back together. Once I graduated from grad school in May, I began to more actively look for a full time job. Despite this, I was still doing my internship with Anime News Network (which ended recently ;_; ) so I didn't apply to jobs as thoroughly as I normally would. But now that the internship has ended, I have begun to focus fully on working.
I still haven't found a full-time in-person job, but that's okay (I haven't had the best experiences in the workplace). I have basically become a full-time freelance tutor and writer. I tutor at night and work on educational writing during the day. I was thrown into one educational project that is very dense and time-consuming, but I find it very rewarding (plus, it pays well!). I have been so focused on that project, plus my other educational writing and my tutoring (right now I tutor for three different companies and write for 4 different websites) that I have fell behind on my blogging.
Things have become extremely busy.
But Rai, it sounds like you need to manage your time better. This is true. So true.
I am attempting to organize myself so I can properly manage all of my projects, including this blog and other anime-related things. But… life isn't so simple. My personal life is going through a transition right now. As a whole, this is a good thing, but it is making things very unorganized at the moment.
As of right now, I still live at home even though I am 25 (this fact depresses me, but, hey, it isn't my fault rent is ridiculously high in north New Jersey) and there are many distractions. My father doesn't work full-time because he has had health problems recently and he is home much of the time. Even when he knows I am working, he will come speak to me or show me something because he has OCD and NEEDS to show me. On top of this, there isn't much privacy the way things are now. I have my own room, but the door doesn't lock and it is completely cluttered with my weeb stuff and my books (plus, too much clothes). Because of the lack of privacy and space, I am usually unable to concentrate while working, which backs up my plans.
To help with this, my parents and I have come up with a plan. We are going to convert our garage into a mini-apartment for me and my fiance. This will give me privacy (for both working reasons and relationship reasons) and more space to put my stuff. My fiance will finally be able to move in, which will be a big help for both of us. She can finally get away from her (loving though dysfunctional) family. It will also make planning our schedule much easier. And as much as I love my fiance, sometimes she gets in the way of my work. But things are getting better. She has her own car now so she can drive herself to work or school, instead of me being her ride. She also just bought her own laptop that she can use for school and her art, instead of using mine (when I need it for work). Our life together is slowly being more functional, which is a huge help. And of course I am super excited for her to move in!
Although, the mini-apartment will be extremely helpful, it has made things chaotic. It needs a lot of work to become a proper living space, and many of the things involved I can't do by myself (such as fixing the ceiling). We have begun the transition process, but that has left the house a complete mess. My already messy room is a pile of things I need to go through. The living room and other areas of the house are filled with my father's music equipment because he has been displaced from his studio during the transition. My mom's stuff is also everywhere (and I am convinced she is a border-line hoarder). It has made the house even more distracting and difficult to work in.
Ideally, I could go to the library, my grad school, or even my tutoring job at a college to give me a quiet and peaceful place to concentrate. The problem is that with all of the work being done on the house (not just the mini garage, but other parts as well) someone needs to be home while the workers are around. My mom works full time as a director at an office, so she cannot be home during the day. My father occasionally works, but when he is home, he is usually too anxious or tired (from health problems) to deal with the workers. So the responsibility falls to me. I need to be home when the workers are here so the house isn't left alone and the workers are given the right directions. I also need to comfort my dog because she is a rescue and has extreme anxiety whenever strangers come over (especially strangers that make loud drilling and banging noises).
Trying to concentrate on writing during all of this is beyond difficult. I have managed to do it so far, but all of my concentration has been on writing that involves deadlines. So blogging has gone on the back burner. That being said, I am sorry if I am super slow at replying to comments on here >_<
But like I said, I am not going anywhere. I am just going to be slower than I have been in the past, especially since my favorite kind of blog posts are analytical or research articles that require a lot of time and research.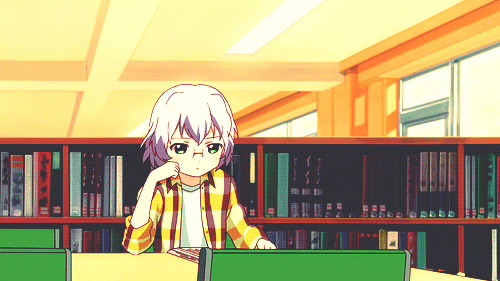 I plan to write about my internship with ANN, and I have all kinds of other article ideas that I want to eventually write. I am determined to continue writing OWLS posts at least once a month. I may also be covering New York Comic Con and AnimeNYC for ANN, so I will definitely talk about that here 😀 My goal is also start occasionally contributing to different anime websites, like ANN or Anime Feminist.
I am not sure how long my transition into the mini-apartment will take. It could be a couple months (I hope not, though). For the time being, I am going to try my best to manage my time so I can do both my work and anime-related things. I will still be around on social media (especially Twitter) talking about anime and my other geek obsessions. You know I will be all over the series that have yuri or cute girls in them haha.
Thanks for reading my personal post and I hope to see everyone around 🙂