Usually, two different things happen on Valentine's Day. You either spend the day with someone special… or  you sulk in self-pity because you're single. Hopefully, the second one doesn't happen to you! Anyway, instead of listing anime that focuses solely on romance, I wanted to list Valentine's Day episodes that are cute and comical – something you can watch with your partner or on your own. But just a warning; I am a huge yuri fan so a lot of these will fall into that genre. Please enjoy, and I hope everyone has a great Valentine's Day~!
Author's Note: This is an update of a post that was previously published two years ago.
The Melancholy of Haruhi-Chan Suzumiya- Episode 11 & 12
Haruchi-chan is a short spin-off of the notorious Melancholy of Haruhi Suzumiya anime. But instead of being about espers, aliens, and time travelers, this series is just… non-nonsensical, chibi chaos. And it is hilarious.
Episodes 11 and 12 are both about Valentine's Day. In the first episode, Haruhi and the other girls decide to make Valentine's Day chocolate by hand. But of course, something weird has to happen… so Haruhi decides she wants to make a life-sized Mikuru chocolate along with other strange creations. In the second episode, the girls want to give their chocolate to Kyon and Koizumi, but the boys have to earn it first. And in typical Haruhi-style, complete insanity ensues.
Yuru Yuri, Season 2, Episode 3 – "Chocolate and Tears and Girls and Girls and Isobe Fries"
Yuri Yuri is a crazy yuri comedy about middle schools friends Akari, Chinatsu, Yui, and Chitose. However, this episode focuses a lot on the side characters Sakurako and Himawari. The two never get along, and yet they rely on each other. One day, Chinatsu decides she wants to make a scarf for Yui as a Valentine's gift. Himawari offers to help her, and the two of them begin hanging out after school. But Sakurako has trouble functioning without Himawari around and becomes distraught. Meanwhile, all of the other girls are getting ready for Valentine's Day and do their chocolate shopping.
This episode has the usual absurd, yuri-laced comedy that we always see in Yuru Yuri, but also shows some insights into Sakurako's and Himawari's relationship. It's great for both laughs and some yuri.
Lucky Star, Episode 13 – "Delicious Day"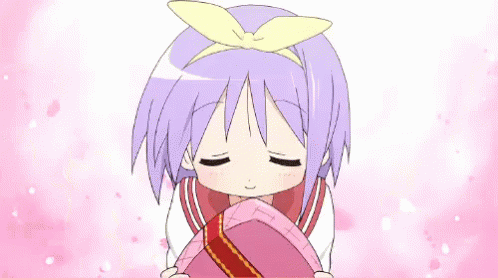 This episode has a lot less Valentine's Day material than the previous two, but I still wanted to include it because Lucky Star is one of my favorite anime. Also, this episode is  extremely funny. The first part shows Konata, Kagami, and the other girls discussing their traditions for the New Year. Then, the show moves through their everyday lives as it usually does, until we reach Valentine's Day, where and the girls exchange chocolate.
After the Valentine's Day segment, the episode moves onto to something else, but it's utterly hilarious. Konata is known as a legendary otaku girl, so when she visits a local anime store, the managers are desperate to sell her something. This scene is so over the top that it's hard to contain your laughter.
Aikatsu, Episode 120 – "Star☆Valentine"
I admit I have never seen a full episode of Aikatsu – only bits and pieces. So when I heard this famous idol series had a Valentine's Day episode, I had to check it out. And the verdict is… I really liked it! Around Valentine's Day, the idol girls of Aikatsu receive a massive amount of chocolate from their fans. To celebrate their fans' kindness (and Valentine's Day), the idol academy's chef decides to melt down all the chocolate and make a tower out of it. However, along the way, the girls find out that the chef has a secret of his own that they want to celebrate.
The episode was really cute and had a nice message. Even though it's late in the series (it's episode 120),  I was able to understand pretty much everything going on. I think I'll be checking out Aikatsu again in the future!
Re-kan, Episode 9 – "The Secret Valentine"
I mentioned Re-kan in my Halloween post, but it turns out this anime is good for Valentine's Day too. The series is about a girl named Amami, who can see and interact with ghosts. She isn't very good with real people, so her friends are surprised when they discover Amami is making Valentine's chocolate for someone. Throughout the entire episode, her friends try to figure out who the chocolate is for, and a lot of funny misunderstandings happen along the way.
While the episode has a few flaws (like some overacting in my opinion), it has a good message and will make you smile. It also shows what a kind person Amami can be. Plus, we even get a little bit of yuri since Inoue, the tsundere girl, gets jealous.
Hinako Note, Episode 12 – "The Place We Longed to Reach"
I've mentioned Hinako Note in all of my holiday posts… but that's okay because it deserves it. This slice-of-life anime is about a shy girl named Hinako, who joins a theater troupe to help boost her confidence. In the beginning of the episode, Hinako sees her friend Mayu making Valentine's Day chocolates, but she misunderstands and thinks Mayu is up to no good. Later on, Yua is desperate to give Chiaki (her crush) some chocolates, and then the theater girls go see a Valentine's Day play.
Just a warning – this is actually the very last episode of Hinako Note, so you may not want to watch the entire thing if you haven't seen the rest of the series. The Valentine's Day stuff ends about 3/4 through the episode. But either way, the episode is very cute and has a lot of yuri for girls love fans.
Miss Kobayashi's Dragon Maid, Episode 14 (OVA) – "Valentines and Hot Springs! (Please Don't Get Your Hopes Up)"

This episode of Kobayashi starts out very similarly to the Hinako Note one. The only difference is that Toru, the dragon maid, actually has impure intentions when she makes chocolates for her master Miss Kobayashi. The rigged chocolate leads to some weird (and even some uncomfortable) moments, but the rest of the episode is great. We get to see Saikawa go all crazy over Kanna-chan in what, in my opinion, is the most adorable elementary school love ever.
In the second half of the episode, Toru, Kobayashi, and everyone else goes to a hot spring together. During this segment, we get to see Toru try giving Kobayashi some Valentine's chocolate again, and we see some cute moments between those two.
Oh, as a side note, if you watched Dragon Maid on Crunchyroll, this episode wasn't part of the original simulcast. It was added at later time when the OVA was released and can now be streamed.
I hope everyone has a great Valentine's Day. If there are any other funny and kawaii episodes I missed, leave a comment or make a recommendation!